Photo from FreeDigitalPhotos.net by
Idea Go
As the holiday shopping season approaches, the topic of money usually starts creeping up in my head. I am pretty sure that many people can relate to this thought, whether it's good or otherwise. It is no secret that there are several people wishing that they could win the lottery this week sometime. There are others that are just praying for a meal on Thanksgiving.
I wrote a previous
post
about wanting to travel across the country in an RV. That's on my bucket list, so if money weren't an issue, I would do that.
The funny thing is that I think that earning money creates some character. We learn to appreciate the work that went into earning it. Earning, giving, saving and spending is how we look at our money after taking a

financial planning class

at our church. There is truth in the expression: Find a job you love and you'll never work a day in your life.
I watch my girls grow and learn and sleep every day. I do get paid in hugs and kisses, but I don't think I could pay for groceries with hugs and kisses. I write this blog and love every minute of it. My husband enjoys what he does for a living. I tell him that he has a gift. He does get paid for doing that (since we can't the bills with hugs and kisses). I do think I would volunteer at more places, but that's more of a time issue than a money issue. I have started to collect toiletries to donate to local charities. Many places provide housing, clothing and food and God bless them for doing so. I always think, though, about all of those things that I do to "get ready" to go somewhere. Where do those supplies come from for the people who are struggling to meet those needs? That's something that I could help contribute to.
If money weren't an issue, what would you do? I would love to read your stories.
Karina
I love comments!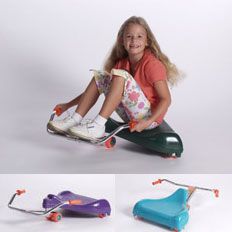 Roller Racer
Powered by Disqus