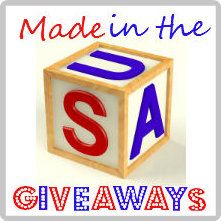 If you are hosting a giveaway and your product is made in the USA, then you have come to the

right place. I

invite

you

to list your giveaways here on

Made in the

USA

Monday Giveaways

. This link-up will be posted every Monday.
1.

list

pro

ducts

that are

Made in the

USA

.
2.

Multiple-item giveaway?

A

ll of the items must be made in the USA

.
3. Gift cards?

Go right ahead

. Those can be listed here.
Submit Giveaway as:

Title / End Date.
Example:

Beauty product 02/14.
***** Please make sure you list an end date.
Otherwise, your giveaway could be removed before the end date. Thank you.