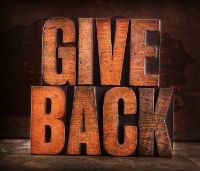 This month we honor mothers everywhere. Being a mother elicits so many emotions. I spent a good portion of my life thinking that I could

not

be a mother. There was no real foundation for that thinking. It's just what I thought. I remember asking my husband, "What if we can't have kids?" God bless him. He told me that we would

just get another dog.
A

.C.N.M. = American College of Nurse-Midwives
This month's featured charity came so easily. I am honoring the American College of Nurse-Midwives Foundation.

Whenever I think of Mother's Day and motherhood in general, my midwives come to mind automatically. During my

p

regnancies, I was

tended to by midwives and both of my daughters were delivered by midwives.

The Foundation is run by a small group of volunteers whose mission is to support excellence in women's healthcare by developing and promoting excellence in midwifery.

I had the honor of speaking with Jan Kriebs, CNM, FACNM, President of the Board of Trustees. She explained to me the fantastic things that the Foundation does within the community. The Jeanne Raisler Memorial Fund encourages midwives who want to go abroad. The Foundation sponsors scholarships for students pursuing careers in midwifery. Community grants assist local groups seeking to educate patients about issues relating to healthcare. In keeping with the promotion of excellence, the Foundation

also

sponsors research.

If you would like to make a donation to the American College of Nurse-Midwives Foundation, you can go to their website here or mail a payment to:

ACNM Foundation
801 East Park Drive
Suite
100
Harrisburg
,
PA
17111
If you want to make a donation to honor your midwife, include a note

to that effect

and the Foundation will

print that in their newsletter.
T

o get involved
with
the A.C.N.M., go
here
to find out how.
May 13-17 i
s
ACNM Virtual Lobby We
ek 2013
. The goal is to "Speak Out For Midwifery." In 15 minutes, you can help support issues concerning healthcare

delivered to

women and children and the midwives who provide this care to them. For this month, I added the ACNM's Blog Feed to the bottom of my blog for those who want

to read through it.
Tell me about your experiences with midwives.

This is truly a passion of mine so I invite you to leave me your thoughts on the topic.
Karina
Subscribe