Thank you for reading this post. I know that it has been a long time since I have posted a Giving Back post. It has not been for lack of wanting to. This month's charity represents a cause that is very near and dear to my heart. As much as I would love for it to be to yours also, I hope it is not from personal experience. This month's Featured Charity is Remembering Our Babies.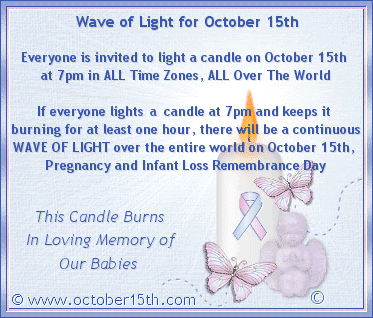 Celebrated on October 15, the day is called Pregnancy and Infant Loss Remembrance Day. The charity was started by Robyn Bear and Lisa Brown. Between the two of them, they have a total of 8 babies in heaven waiting to someday be reunited with them. Ironically, one of the reasons that I have posted so little in the last few months was because I was dealing with feelings of depression that were brought on by my current pregnancy. (I posted that story here.) I lost two babies last year and thought I had dealt with the emotions. Apparently, there was unfinished business to resolve.
On October 15, I and, hopefully you also, will be remembering the babies that we have lost.
At 7pm (your local time), light a candle and let it glow for one hour. You can also leave on your headlights to commemorate the day.
Here is a link to their website where everything that October 15 represents was passed in the House of Representatives. If you know someone that has lost a baby, please let them know that you support them in this moment of grief. I would also like to let you know. No matter how many children they already have, losing a baby is a loss. We, who have lost the baby, are grateful for the children that we already have. We are also sad for the one we have lost. A simple, "I'm sorry for your loss" works well.
Subscribe