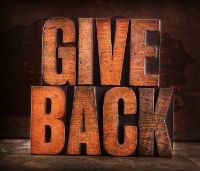 We think of December as the holiday month. We celebrate several religious holidays, the end of a year and we honor each other with gatherings and gifts. This month also signifies the spirit of giving. With that spirit in mind, this month's featured charity is Toys For Tots.
Since 1947, Toys For Tots has been providing a new toy for Christmas for less fortunate children. Although Toys For Tots has always been "run" by the U.S. Marine Corps, it wasn't until 1995 that the Toys For Tots Foundation became "an official activity of the U.S. Marine Corps."
Toys For Tots is such a great organization to support. I think the kid in all of us wants to keep that innocence of the holidays alive and that's what this organization does through their toy donation drives. My respect for what they do increased ten-fold when (years ago) my office became a drop-off point for toys. The joy of seeing all of those toys - I can not even begin to tell you how much fun that was. Imagine how many children's lives are touched by these donations. On the flip side too, imagine how many parents' and caregivers' lives are touched by these donations. The moment deserves a happy sigh of relief.
If you want to find a local drop-off place to donate toys, please click here to do so. If you want to make a monetary donation, please click here. There are several other ways to make donations and the second link will also take you to the page to get that information. Make a child's holiday more enjoyable by donating a toy.
Karina
If you like what you're reading, I invite you to follow my blog.